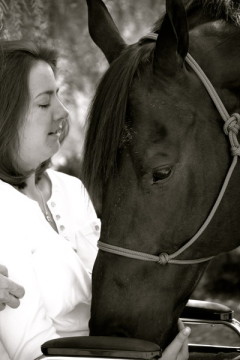 Amanda has been a consistent participant in the Happy Trails riding program since 2007. She inspires the volunteers at Happy Trails through her hard work and sweet spirit in spite of her physical limitations.
Amanda has been diagnosed with Niemann Pick Type C, a rare, life threatening, neurological condition with no cure. Her disability began to surface in fifth grade when she started struggling to keep up with the other kids. Her development continued to fall behind over the next few years. Through all of her struggles, Amanda never complained and just tried to keep up with the other children.
In 2007, during Amanda's sophomore year of high school, she had a psychotic break which was very hard to control at home. She was admitted into UCLA for treatment, a visit which was supposed to last 1 week but turned into 10 weeks. By the end of her treatment, the best diagnosis was schizophrenia. Again through this long stay at UCLA, Amanda never complained and did what everyone asked her to do.
Unfortunately, Amanda's physical conditions continued to deteriorate, especially her motor skills, which doctors tried to treat with other medications. In 2010, Amanda graduated from high school. Her doctors at UCLA began to suspect that she did not actually have schizophrenia since she was not exhibiting the common symptoms. Dr. DeAntonio (Psychiatric Doctor at UCLA) assisted the family in getting in touch with Dr. Learner an Adolescent Neurologist at UCLA. After a battery of tests, an elevated protein was found in her spinal fluid. Dr. Learner sent the family to UCSF for further testing.
Amanda visited UCSF, where in October 2011 she was finally diagnosed with Niemann Pick Type C – a lysosomal storage disease which damages the body's cells and tissues, starting in the brain. Since Amanda's diagnosis, her physical condition has deteriorated further; she now rarely talks and struggles to walk.
Happy Trails has been an accepting and encouraging refuge for Amanda, giving her something to get excited about and look forward to each week. She was first introduced to Happy Trails by long-time volunteers Marie and Paul Ritter. It has been the only program in Tulare County to accept Amanda and allow her to continue participating.
Amanda truly enjoys riding and has developed a special relationship with one of the horses, Clue. She takes good care of Clue and in turn he protects her and gives her the opportunity to be free from her physical limitations. Volunteers notice that Amanda listens closely to all of the commands and always makes her best effort to guide Clue. Lisa Cotta-Meek, Program Director, added that "Amanda smiles and talks while riding, rarely does she have a silent lesson" – feats not often seen in other aspects of her life.
Amy, Amanda's mom, is grateful for all the people who make Happy Trails such a wonderful program where her daughter can be normal. Amy said "When Amanda is at Happy Trails nothing else matters and everyone treats Amanda with such loving care". Amy noted that it's hard to find a place like Happy Trails that makes a special needs child feel so important and loved.