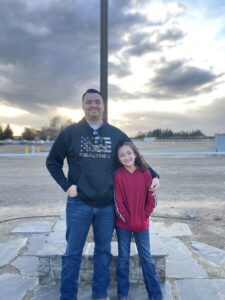 It's a family affair with a father daughter team participating in classes at Happy Trails this session. Single dad Anthony Atilano is riding in the Equine Services for Heroes class Monday evening. He returns Tuesday with 8-year-old Kalliope who rides in Therapeutic Riding. Kalliope is in 3rd grade at Lakeside Elementary School in Hanford, home of the Lakeside Leopards. She and her younger brother, Ares, have enjoyed being back in the classroom since
November.
Kalliope was born with a right hand not fully developed. Obviously not one to be slowed down, she enjoys several hobbies that keep her busy. They include shopping, although she will tell you she does not like flash or bling! She also likes school where she excels in math and reading. She was recently chosen (as the only girl) to participate in her school book club. They meet after school and are currently reading The Titanic.
Her absolute favorite pastime is riding horses! Her face lights up as she talks about Ridge and how his hair falls off like fluffy snow when she grooms him. Kalliope recently accomplished riding bareback but says the western saddle makes her feel the most comfortable while on the horse.
Having her father at Happy Trails to share their common experiences with the horse, tack and equipment has created a special bond between them. When asked what she would like to be when she grows up, she enthusiastically replied, "I want to be an instructor at Happy Trails so I can be with the horses all the time!"
Anthony Atilano has wanted to ride since a child. He believes horses to be magnificent animals and helpful to people with different types of emotions, including depression and anger. As a history buff he's familiar with the role the horse has played in advancing civilization. Learning to ride would accomplish his desire to connect with this noble animal.
It was a friend's mother who volunteered at Happy Trails that shared the program with him. Originally, he was interested in finding classes that might help his daughter with her special needs. When he dropped off Kalliope's application he discovered the Equine Services for Heroes program for himself.
Anthony served in the U.S. Army as airborne infantry. His exceptional sharp shooting skills earned him the role of company sniper. He completed two tours in Iraq totaling 27 months with Operation Iraqi Freedom 4 & 7, was discharged in 2009 and served in the Army Reserve until 2012.
Since discharge from the service, PTSD began to affect his life negatively. His life was stalled with a job going nowhere. He was restless with no desire to finish school. Then he remembered his commanding officer's words, "the moment you stop moving is the moment you are dead." Although harsh, the message was clear. He needed to start living his life forward. He began to make checklists, and calling his counselor to work on a career plan. Anthony was recently hired by the Kings County Sheriff's Department and is looking forward to the future. He 'feels at peace' while at Happy Trails. "I leave Happy Trails feeling better every time I'm out here."