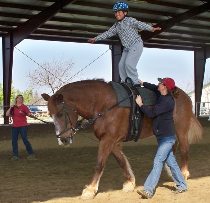 Brandon McDarment began riding with Happy Trails when he was just four years old. He suffers from Traumatic Brain Injury (TBI) that resulted in Brandon having a spectrum of challenges, so he started the Equine Assisted Activities / Life Skills class with Klara Bergtholdt, an occupational therapist and PATH, Intl. certified instructor. After a couple years of the EAT class, Brandon started Interactive Vaulting and now, at ten years old, Brandon says it's his favorite activity at Happy Trails. Brandon also says that his favorite vaulting position is the one that "makes me look like a starfish."
According to his mom, Cristina Gonzales, the hardest part about Brandon's TBI is that as he grows and gets older, his symptoms are constantly changing. Brandon didn't start talking until he was nearly five years old, but now he loves talking to everyone. He especially loves sharing his larger than life imagination and playing the parrot game, where he repeats everything his mother says.
One of the components of the TBI that has remained with Brandon, however, is the fact that the two sides of his brain don't always communicate well with each other well. This means that Brandon can experience sensory, coordination, and balance issues, learning difficulties, comprehension struggles, and even short-term memory loss – some of the many things that are targeted with Interactive Vaulting.
Not only has Happy Trails helped Brandon to improve his overall brain balance, coordination, and comprehension, it has also helped to develop his social skills. Brandon is an only child and his mom says that she is his main playmate at home. Coming to Happy Trails every week for the past five years has helped Brandon to develop friends and have the chance to interact with more of his peers. The program has also fostered Brandon's love of animals, and horses in particular. In fact, Brandon can often be found at one of the local rodeos and loves participating in the "Exceptional Kids Day" that many, like the Coarsegold Rodeo, offer just for children with special needs.
Brandon is also an enrolled member of the Tule River Indian Tribe, who generously supports Brandon's sessions at Happy Trails. Cristina says that the Tribe is extremely supportive of therapeutic horsemanship and Brandon's educational goals, and she is very thankful for their support.